1/4
HD-F761 Three-Seat Sofa Durability Tester
Quick Details
Payment:
PayPal,VISA,MasterCard,Western Union,L/C,T/T,D/P,D/A,Other
Supply Ability:
10 per month
HD-F761 Three-Seat Sofa Durability Tester
EQUIPMENT DETAILS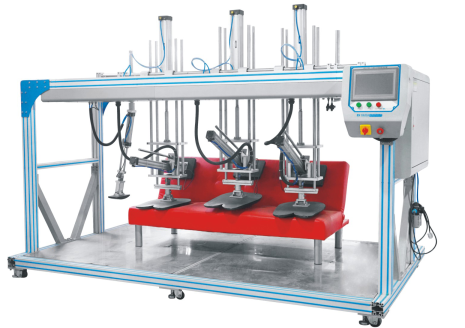 (for reference only)
APPLICATIONS& TEST PURPOSE
This tester simulates the normal conditions of usage to determine the sofa's endurance under a long-term repeatability loading. The principle is to simulate normal functional use to determine the strength of the three-sofa structure by applying to seating and backrest with loads. Using a certain shape and load modules, with specific form, frequency, respectively, repeating load seating, backrest and armrest. Three tests can work together or independently, also the test position is adjustable.
GENERSAL SPECIFICATIONS
Machine Dimensions: (W x D x H) 2500*1700*1850 mm
Power supply source: single-phase, AC220V±10%, 50/60Hz (can be appointed)
Gross Weight: 950kg
DESIGN STANDARD
EN 4875
1a Seat static load test 1b Back static load test
4a Seat fatigue test 4b Back fatigue test
STANDARD FEATURES
Function

Three Seating and backrest test modules, one armrest test modules

Timer

0

~

999,999, can set the test cyclic freely

Cyclic and Holding Time

0

~

99.9S

Air Source

7kg/ cm2

(

provided by customer

)

Max Specimen Size

(L×W×H)2200×1200×1200mm

1)

Seat

fatigue

load:

9

50 N; Backrest

fatigue

load: 400N

2)

LCD color Touch screen

, easy to operate

3)

PLC

programmable controller
A: Air cylinder
B: PLC and LCD touch screen
C: Air pressure valve
D: Imported sensors
E: Indenter (Press the armrest)
F: Seat loading pad
G: Castor
H: Stainless steel panel
Quality guarantee
A) Quality assurance items
The guarantee period with FOC within one year (not including nonexpendable & transport and travel fees)
1. During the guarantee period, Haida shall supply free maintenance or replacement for the damaged part(just for nonexpendable part) induced by non-human damage;
2. If any quality problems occurs within the guarantee period, and Haida must provide on-site service, the transport and travel expense shall be borne by customer;
3. If any big quality problems occurs out of the guarantee period, Haida will provide a maintain service, the transport and travel expense shall be borne by customer, also charge for a favorable price;
4. Haida will provide a lifetime favorable price to the buyer with the materials and spare parts used in system operation, equipment maintenance;
B) The main quality warranty maintenance certificate
If there is any dispute please refer to our guarantee letter, so:
① please keep the guarantee letter, if you lost it, please connect with us in a month.
② If the guarantee letter has been altered or it has no our stamp, it is useless.
C) The following conditions need to be paid reasonably even in the assurance period:
① Natural reasons
② Operating mistakes
③ Voltage is not fit for our operation instruction
④ Repack it without our guides
⑤ Damaged for borrowing to others
⑥ Damaged for authorized machine modification
⑦ Damaged for authorized calibration
⑧ Authorized transshipment mistake
⑨ Serve for long distance area
D) Attentions
① Any service outside Guangdong, China, transport and travel fees shall be paid by customer.
② The apparatus try not to be used in the following situations:
a. Vibration, rocking the occasion.
b. Direct sunlight.
c. Hot, dusty, damp places.
d. To ensure safe, AC supply of the machine should be well grounded.
e. Do not use strong solvents (such as: benzene, nitro oil) washing machine.
f. Do not inject water and debris into the machine; prevent damage to electrical components and electrical shock.
g. Instrument displays the disassembly and debugging can only be measured by the State Department approved the units and the company, other people not allowed to overhaul.