1/3
Cutlery Cutting Performance Tester
Quick Details
Payment:
PayPal,VISA,MasterCard,Western Union,L/C,T/T,D/P,D/A,Other
Supply Ability:
10 piece per month
HD-M013 Cutlery Cutting Performance Tester
Equipment Details:
Picture for reference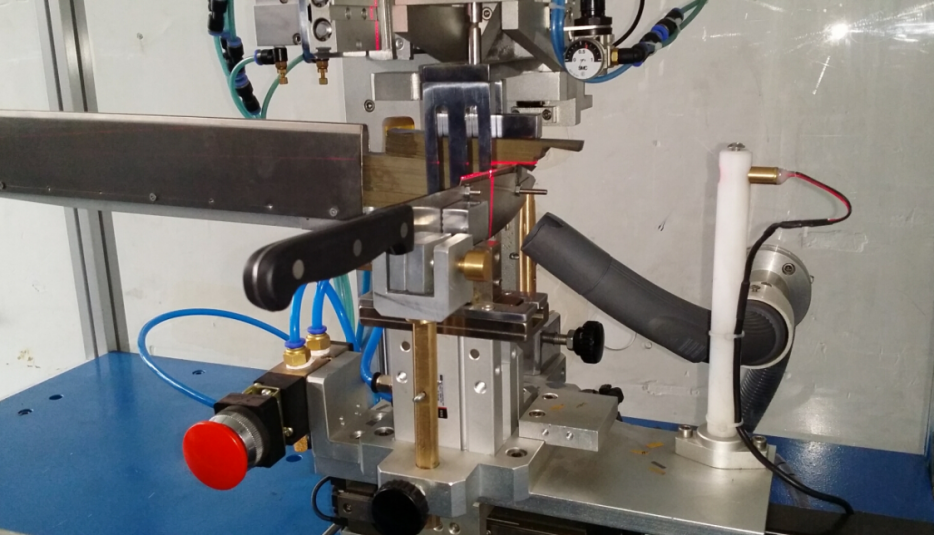 Haida machine in Intertek
Equipment Description:
The blade is mounted in a position with the edge vertical and a pack of specially developed synthetic paper (Not included) is lowered on to it. The clamping fixture with the blade move back and forth the blade cuts into the paper, the depth of the cut being the measurement of sharpness.
Designed Standard:
EN ISO 8442-5
| Move mode | ball screw and servo motor. |
| --- | --- |
| Test stroke | 20~60mm(adjustable) |
| Load | 50N |
| Cutting speed: | 50mm/second over 90% of the specified stroke. |
| Max blade width | 110mm ( include 50mm of cut) |
| Control mode | PLC programmable controller, LCD touch screen interface show test graph |
| Power | 1 phase, AC 220V, 50~60Hz |
Corresponding Standard Clause:
Design Picture in EN ISO 8442-5
General Requirement:
Testing Procedure
Quality Assurance
1. The guarantee period with FOC within 1 year (not including expendable parts cost and transport & travel fees)
1.1 During the guarantee period, Haida shall supply free maintenance or replacement for the damaged part (just for non-expendable part) caused by non-human reasons;
1.2 If any quality problems occur within the guarantee period, and Haida must provide on-site service, the transport and travel expense shall be borne by buyer;
1.3 If any big quality problems occurs out of the guarantee period, Haida will provide a maintain service, the transport and travel expense shall be borne by buyer, also charge for a favorable price for new parts;
1.4 Haida will provide a lifetime favorable price to the buyer for expendable & non-expendable parts used in system operation, equipment maintenance;
2. The following conditions need to be paid reasonably even in the guarantee period:
2.1 Natural disaster
2.2 Operating mistakes
2.3 Voltage is not fit for our manual
2.4 Uninstall without our guides
2.5 Damaged for borrowing to others
2.6 Damaged for without authorized machine modification
2.7 Damaged for without authorized calibration
2.8 Without authorized transshipment mistake
3. Attentions: the machine cannot be used following situations:
3.1 Vibration, rocking place.
3.2 Direct sunlight.
3.3 Hot, dusty, damp places.
3.4 To ensure safe, AC supply of the machine should be well grounded.
3.5 Do not use strong solvents (such as: benzene, nitro oil) washing machine.
3.6 Do not inject water and debris into the machine to prevent damage to electrical components and electrical shock.
3.7 Machine's disassembly and debugging can only be measured by the State Department approved the units and the company, other people not allowed to overhaul.
Company Introduction:
HAIDA INTERNATIONAL is a professional manufacturer of various kinds of testing equipment over 10 years. HAIDA products are widely used in paper products, packaging, ink printing, adhesive tapes, bags, footwear, leather products, environment, toys, baby products, hardware, electronic products, plastic products, rubber products and other industries, and applicable to all scientific research units, quality inspection institutions and academic fields.
See what company you will work with?
1. Professional Manufacturer of various kinds of testing equipment over 10 years, defect rate is controlled under 0.02%.
2. Completely Production Line. From Raw Material to Delivery, all links are under our control. The quality can be assured.
3. ISO 9001:2008 Quality Management System Certificate.
4. OEM/ODM Service. Just tell us your idea! Our R&D Team is standing by…
5. Our Marketing Investigation Department will send Marketing Research Report to you each season.
6. We are trusted by SCS, INTERTEK, HST, COFCO, ESC, KBMC, LENOVO, PANASONIC, EMC, etc.
7. We accept 100% inspection.
8. Guarantee Period: 365 days, After Sales Service Department provides professional service with you, any questions, just contact us.
In Stock
Show Room
Customer Lab
Partner: